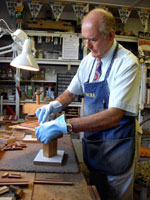 About Kieran
From an early age, Kieran O'Cuneen's passion was to work with timber. When he was nine years old he asked his father for a carpentry set for Christmas. He was given a book instead to encourage diligent study.
Despite his disappointment, in school holidays he would try to use tools left behind by his great-grandfather, a wheelwright and cooper.
Only after many years of university studies and career building, when posted as a diplomat to Zimbabwe, was he able to enrol in an excellent woodworking course at Harare Polytechnic. During the 1980s he followed specialist courses in routing with master craftsman Roy Sutton in the UK, and began to make boxes at Roy's suggestion.
Everybody needs a box, Kieran!

During his working life, the hobby became a lifeline, especially in the difficult years, when he became Ambassador of the European Commission to Angola during the war and Special Envoy to Somalia and Rwanda.
Final postings were in the Caribbean which made it possible to go to Dallas in Texas to work with Perry McDaniel, specialist in Incra Jig joinery.
Now retired from diplomacy, Kieran spends endless hours in his workshop, making boxes using the intricate Incra technique, fine inlay and veneering as well as Japanese Yosegi.
The cover article of the October 2009 issue of Good Woodworking magazine featured Kieran and his boxes. You can read it here (Acrobat file) by kind permission of Good Woodworking magazine.
Kieran can be contacted at: boxes@ocuneen.com